Thinking About Some Outdoor Remodeling?
Tired of being stuck inside? Been getting cabin fever? We understand. Spring is just around the corner, and the ideas and concepts you have been suppressing about outdoor living should already be in your head. Maybe you've also thought about improving the appearance of your home's exterior, or doing some resurfacing and modernizing of pool or patio areas?
In case you don't already know, Island Block & Masonry Supply is more than just stone or masonry. We are actually much more. We're people who care about what is needed for your interior or exterior ideas. We're commercial specialists, too. For over 65 years, Island Block & Masonry Supply has taken care of all types of projects. Island Block can create or buy many of our masonry materials from local suppliers, saving time and money. In addition, we have over 10 acres of inventory on Long Island.
Yes, there are so many choices. As a quality and leading manufacturer and distributor of concrete block and distributor of masonry and landscape materials, Island Block & Masonry Supply can assist you with the best choices in advance of the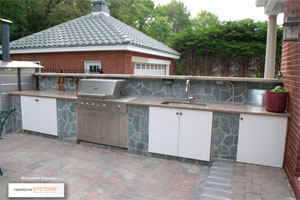 upcoming spring season. Now is the time to plan. Our products range from basic components such as block, sand, gravel, cement, and reinforcing steel to one of the largest collections of clay brick, concrete paving stones, manufactured stone, and natural stone to be found anywhere on Long Island.
There are also probably lots of choices you aren't thinking about of. Thin veneer panels, for example. Thin stone veneer panels are really nice. And practical. That's why Island Block & Masonry only carries the best products, including the distinctive Real Stone Systems line of superior and lightweight natural stone veneer panels. You'll see the beauty and durability of real stone without the installation hassle and sheer weight of real stone. And it's another reason why Island Block & Masonry can deliver the best stone solutions on Long Island and in the five boroughs.
Well, to sum it up, it's all here! What's your need? We can do it…All projects large and small. Because of our strong relationship with suppliers, we can find any style you are looking for to meet your Residential or Business Needs. Contact Island Block and Masonry today for more information.
[schema type="organization" orgtype="Organization" url="http://islandblockmfg.com" name="Island Block Masonry & Supply" description="Island Block Masonry and Supply Specializes in Masonry Supply, Distribution and more. " street="21 W. Booker Ave" city=" Wyandanch" state="NY" postalcode="11798 " country="US" email="info@IslandBlockMFG.com" phone="(631) 643-6000 " ]