We're know you're tired of being inside. You're ready for outdoor activities. Island Block understands. You're probably thinking about improving the outside of appearance of your home, or doing some modernization of driveway, pool or patio areas.
Did you know that Island Block & Masonry Supply is more than just masonry? Or stone. Island Block is people, a family owned and operated business that cares about your needs, all within your budget. They'll make the best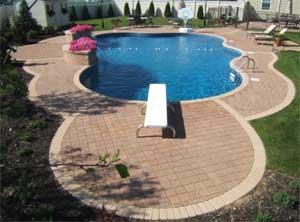 recommendations that are practical for you. Island Block is also a commercial specialist. For over 65 years, Island Block & Masonry Supply has taken care of all types of exterior and paving projects. They create custom materials, and they also purchase many of their masonry materials from local suppliers, saving you considerable time and expense. In addition, they have over 10 acres of inventory on Long Island. Island Block is your "one stop" summer marketplace for exterior and interior enhancement projects.
There are so many choices. As a quality and leading distributor of quality paving products, Island Block & Masonry Supply can help you to make the very best choices. Island Block knows there are lots of choices you might be considering for your summer project. That's why Island Block & Masonry only distributes the highest quality paving products for summer.
What's your need this summer? With Island Block's assistance, you can effectively plan now for those summer paving projects, both large and small. Because of Island Block's strong relationship with suppliers, they can recommend any style you are looking for, with exceptional value backing up the products they distribute.