With summer well underway, it's time to ask once again: have you started that much delayed outdoor beautification project outside of your home? Or are you stuck at a point where you just don't know where to start? It's a common dilemma. But now, it really is time to get your home exterior design ideas going.
You should start by examining your goals. Do you want to enhance your home's exterior? Would you like to see a more interesting, colorful and durable driveway, patio area and pool area? Decorative and colorful outdoor stone can definitely do the trick. The new travertine and marble displays at Island Block are a good reference point as well. The colors and textures are amazing. Durability? For sure!
You don't have to commit to a specific product or material right now, today. The experts at Island Block, a family oriented business for over 60 years, are proud of their tradition of customer service, with a laser-like focus on the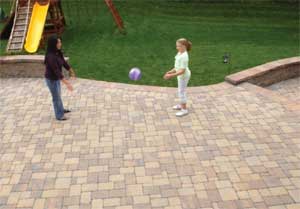 needs of the customer. Of course, cost is always a factor, and Island Block is always ready, willing and able to make the perfect recommendations that will please both your aesthetic sense and our wallet. You will never be prouder of your home's exterior than what you'll see this summer. Meanwhile, we recommend that you learn all about the fascinating qualities of paving products. This is also a good time to receive some reliable advice from some of Island Block about their best-distributed products, including from companies like Nicolock. Nicolock is distributed on Long Island by Island Block & Masonry Supply and offers the perfect combination of selection, knowledge and price. And Island Block will take care of everything you need, without going elsewhere.
Remember that these exterior remodeling enhancement ideas won't be boring or dull. You'll experience exciting, colorful and diversified patterns. You'll also always are exterior paving designs that will enhance and beautify the exterior of your home. With Island Block, the ideas have no limit, and there are always more choices available with Island Block's help, to beautify your home. The choice is definitely yours.
As major suppliers of Nicolock, Cambridge, Belgard, Unilock and Libertystone, Island Block & Masonry Supply has the knowledge, inventory, experience and selection that you would expect.