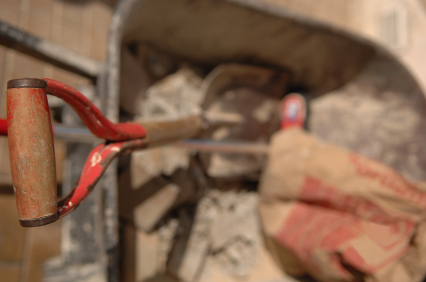 Bagged Material
Island Block & Masonry Supply has been providing the five boroughs with concrete block from the same location since 1947. With a complete line of concrete block manufactured on site and the delivery equipment to meet your projects needs, we are the first-rate choice for contractors and homeowners alike.
At Island Block and Masonry Supply we have such a wide variety and selection of bagged materials for all of your masonry needs, these are just some of the products that we offer Portland cement, Mortar type n&s, Fine sand, Concrete sand, Polymeric joint sand, Dark mortar, White mortar, White Portland, Cement, Lime, Calcium chloride.  These are just some of the bagged materials that we have in stock on site at our location in Wyndanch, New York.  Over the years we have seen many people come in and complain about the quality of the bagged materials that they have purchased else where, with us at Island Block and Masonry Supply you are only getting the best quality products that anyone can buy, this isn't cheap stuff thrown together, this is the same quality that professional contractors use on their sites every day.
There is a reason why we are still the number one masonry and block choice since 1947. We have such a large variety of bagged materials, if you do not see on that you need mentioned above then why don't you give us a call at 631-443-4521, a block and masonry specialist will obtain what you need and make your block and masonry job just a little easier for you! So if your are in need for some bagged materials for your Block and Masonry Job come on down to Island Block and Masonry supply, Long Islands Premier Block and Masonry manufacturer & distributor.
BAGGED
PORTLAND CEMENT

MORTAR TYPE N&S

FINE SAND

CONCRETE SAND

POLYMERIC JOINT SAND

DARK MORTAR

WHITE MORTAR

WHITE PORTLAND CEMENT

LIME

CALCIUM CHLORIDE
With top quality products Island Block and Masonry Supply is your premier supplier for all of your masonry supply needs within the tri state area.