Summer is just about here, so let's plan by launching your home exterior design ideas into action. Let's take a closer look. What's your summer goal? Is it enhancement? Or maybe it's a home exterior with materials like our fabulous and brand new travertine and marble display, all presented with new exciting colors and textures that are only found in natural stone paving materials? They are all durable and Island Block offers a great selection.
Let's review your summer remodeling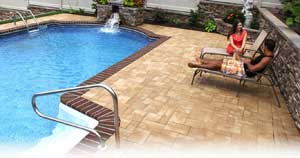 or new constructions plans. But wait. Before you commit to anything, we recommend that you learn all about the fantastic qualities of various paving products. The imminent approach of summer is always a good time to get some reliable advice from some of Island Block's best distributed products, including from companies like Nicolock. Nicolock is distributed on Long Island by Island Block & Masonry Supply and offers the ideal combination of selection, knowledge and price. Island Block will take care of everything you need, without going elsewhere.
Keep in mind that these summer exterior remodeling enhancement ideas won't be boring or dull. You'll see exciting, colorful and diversified patterns. These are exterior paving designs that will enhance and beautify the exterior of your home. With Island Block, the ideas are endless and there are always many different ways to beautify your home. The choice is distinctly yours.
This is the time. Prepare now with careful and complete planning for your summer remodeling or new construction project.
As major suppliers of Nicolock, Cambridge, Belgard, Unilock and Libertystone, Island Block & Masonry Supply has the knowledge, inventory, experience and selection that you would expect.