With summer winding down, it's time to make that improvement move without delay. Maybe you feel you're still undecided and don't really know where to start. Let's begin by analyzing what you want to get done.
What is it you want to do before summer's end? Beautify the outside areas of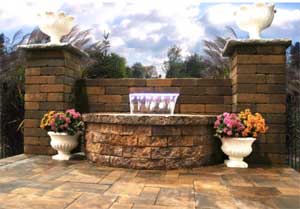 your home? Or maybe you figure it's about time to spruce up the driveway or pool areas. We have the beautiful outdoor stone that will offer just the right touch. Our travertine and marble displays at Island Block are a good place to start. They all have spectacular, dazzling colors and definitely withhold up to the elements.
Don't decide today, though. Outdoor home improvement experts at Island Block will help to guide you, every step of the way. This family business has been doing it for over 60 years, with a proud tradition of service to area residents. If budget is a concern (of course) Island Block is well aware of cost concerns and will work within your budget. They will make the ideal recommendations that will please and delight you. They also feel with assurance that you will be very happy with the results.
Paving products offer another good solution. Again, some advice from Island Block will go a long way. Island Block distributes quality products from companies like Nicolock that gives you just the right blend of quality, beauty and price. It's all at Island Block. Island Block assures its customers that they certainly won't be bored with these selections, either. There are so many diversified, colorful and downright exciting selections to pick from. It's all part of the Island Block philosophy of no limits to what outdoor beauty is all about.
Island Block is a major supplier of Libertystone, Unilock, Belgard, Cambridge and Nicolock, presenting an amazing array of colors, options and styles.
Durable and Beautiful
Island Block has paving products that are durable and beautiful. They also project cool, both in terms of style and a feeling of repelling the heat you find outdoors. With the right selections, you'll be the talk of the neighborhood.
Everything you need to get started is at Island Block & Masonry. It all starts with careful advice that will suit your budgets and our taste.