Stone Veneer
Manufactured stone veneer is used as a decorative covering for exterior or interior walls such as fireplaces, chimneys, bathrooms, backsplashes, veneering on a house, accent walls or wherever else your imagination takes you. The veneer is typically 1 to 3 inches thick, and weights 10-15lbs per square foot so that no additional structural support will be required. Manufactured stone veneer is a decorative building material manufactured to replicate the look of natural stone. Manufactured stone veneer has become a design trend for residential and high end commercial projects.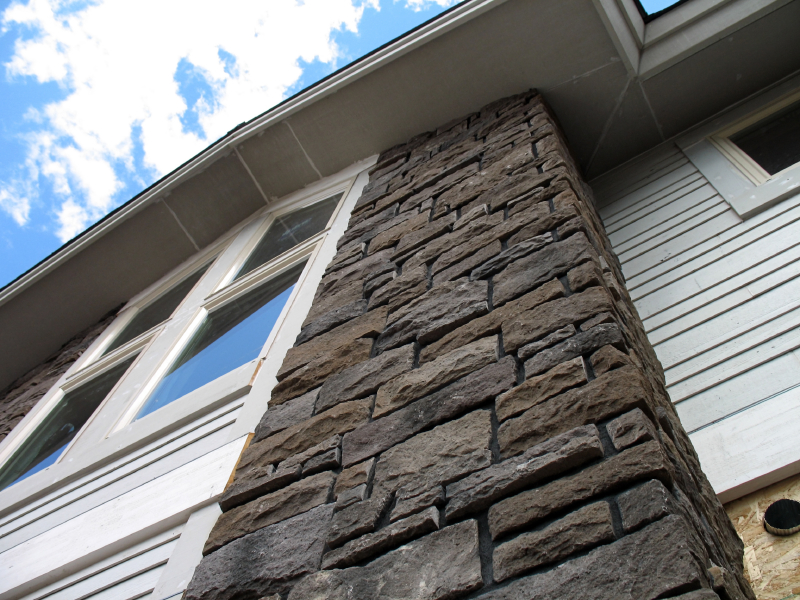 Manufactured stone veneer is fabricated by pouring a mixture of lightweight concrete and aggregate into rubber forms of different styles and then using colored dye to make it resemble real stone. The advantages of manufactured stone veneer over natural stone are:
Lower cost (cost of material, cost of application, waste cost)
Less weight (ease and cost of application)
More variety of designs and colors
Manufactured veneer is customarily less expensive than natural stone, approximately 1/3 to 1/2 the cost of natural stone. Being light weight eliminates the need for wall ties or footings which make it easier and more economical to build with. Furthermore, manufactured stone veneer has a significantly smaller waste factor than natural stone. The variety of designs and colors allows more design options which are not available with natural stone.
Stone Veneer Installation Methods
The substrate always dictates which installation method should be used. Manufactured stone veneer can be applied to most common wall substrates – concrete masonry units (CMU), poured-in-place concrete walls, metal studs, metal panels, wood sheathing, open stud framing or even rigid insulation.
Stone veneer can be applied to clean, unpainted CMU block surfaces, and clean unpainted brick. It can also be applied over a horizontally scored scratch coat. The installer should ensure a clean surface by spraying water on the block to see if the water beads. If so, additional treatment such as sandblasting or power washing, may be required for installation. If the CMU cannot be cleaned properly, metal lath may need to be installed using concrete nails or screws and a scratch coat applied to the lath before placing the veneer. The stone veneer is hand placed in a mortar setting bed applied to the wall by the installer.
Stone Veneer Typical Applications
A common use of manufactured stone veneer is to add it to the face of a retaining wall above ground. For installations at grade, sealing the stone will minimize the potential for stains. Retaining walls should be designed and engineered for the environment. Dependent on the climate, the design professional will specify the proper mortar and cement mixtures to resist freeze and thaw constraints. Common practices for detailing retaining walls include the prevention of surface water into the system by wall caps that extend beyond the wall edges from 1 to 2 inches minimum. This applies to any retaining wall with a stone veneer surface as well. Typically, the side of the substrate wall that faces the earth is coated with a bitumen surface, and soil engineers will specify drainage materials, piping and/or a drainage mat to reduce the pressure on the wall from moisture accumulation.
Another common use of manufactured stone veneer is refacing, such as an older unattractive fireplace. The structure of the fireplace in most cases can be left intact and a new manufactured stone can be installed right over the existing material. Compared to replacing the whole fireplace, a new look can be achieved very easily and in this case with a relatively low cost. Also, with the popularity of conversions from traditional wood fired fireplaces to natural or propane gas, manufactured stone veneer offers a refreshing maintenance free appearance with the timeless beauty of stone. A fireplace can be the focal point to any bedroom, bathroom, living room, family room, and dining room. Highlight it with a stone veneer.
Another common use of manufactured stone veneer is as an accent piece to either a front entranceway to a home or a upstairs dormer where typically the use of a traditional masonry product would be impossible. The structure of the home can sustain the lightweight stone veneer and no additional footings or foundations are required. This allows for endless possibilities for stone accents throughout the home. Create that unique application.
Why Stone Veneer?
There are many steps taken to select a building material for any project. The design professional assesses the contribution of each material to the aesthetic goals of the project. The performance requirements will be analyzed based on its application. Manufactured stone veneer has many benefits that allow architects, contractors and homeowners to select this product as premium alternative to many other veneers. With proper installation, veneer is easy to maintain. One of the greatest benefits is that it provides a material surface with a very long life cycle. Typically many manufacturers offer a 50-year warranty.
Manufactured stone veneer provides these advantages and can also reduce transportation costs by approximately one-third to half the weight of natural stone. Specifying this product therefore reduces shipping weight charges. Manufactured stone veneer provides an appropriate and elegant solution for walls and surfaces that celebrate and contribute to the natural environment.